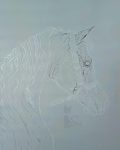 How do my animal drawings and animal portraits come about?
Hello my dears,
In this post I would like to share with you the emergence of the beautiful Arabian stallion Ansata Hejazi (Ansata Halim Shah x Ansata Sudarra). I will gradually upload here some photos of the steps of the pastel crayon drawing in size 40 cm x 50 cm. The ref. photo was taken from one of my dear photographer friends, Gigi Grasso.
Also on my Facebook page – animal drawings and animal portraits by Katja Sauer you can always follow the development steps of individual animal portraits.
Ansata Hejazi (Ansata Halim Shah x Ansata Sudarra)
– Sketch –
The preparation of the sketch by Ansata Hejazi took around four hours. First, I draw the outlines roughly and compare again with the reference photo. Until the sketch is finished and everything fits, the eraser is in continuous use … ;-)