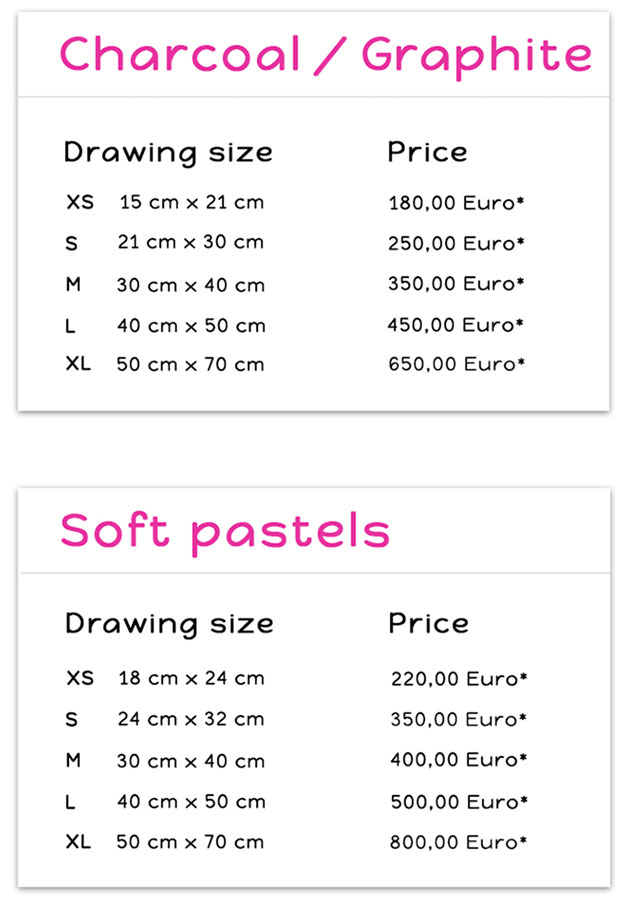 *All prices are in Euro 

plus shipping costs

 (please scroll down)
For commissions I require a 50% deposit of the picture price before I start with your portrait.
This payment is due before starting work. The balance, including the agreed shipping costs is to pay after the completion of the portrait. In case of non acceptance of the image I keep this and the advance payment as compensation for material and services rendered, and I make other use of the drawn portrait.
The prices base on the creation of one animal, one person or one motif per picture without background and without framing.
If desired, other formats as well as a simple, blurred background or a detailed background are possible with extra charge.
The price includes the expenditure of time and material.
Shipping costs are extra.
Every painting is unique.
Mats (Mounts)
A mat (mount), put between the picture and frame, protects the picture and changes its visual appearance. Suitable mats for pictures up to size 40 cm x 50 cm can be ordered in black or white or various colors on request. There are no additional shipping costs.
What is a mat (mount)?
A mat (mount) is a flat framing of high-quality passe-partout cardboard for drawings and paintings, which lies under the glass of a picture frame. It serves as a spacer between image surface and glass in pictures framed behind glass. A mat (mount) prevents pastel or charcoal particles from sticking to the frame glass, as the passe-partout acts as a "bridge" between image and frame glass.