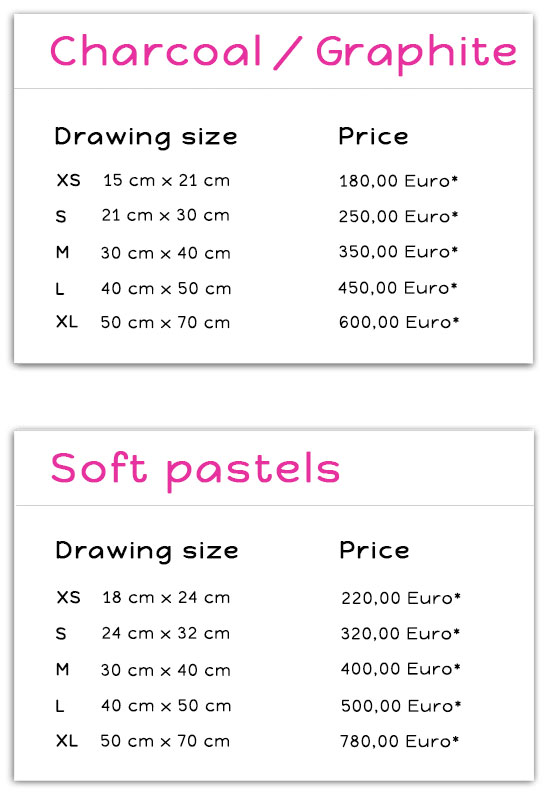 *All prices are in Euro 

plus shipping costs

 (please scroll down)
For commissions I require a 50% deposit of the picture price before I start with your portrait.
This payment is due before starting work. The balance, including the agreed shipping costs is to pay after the completion of the portrait. In case of non acceptance of the image I keep this and the advance payment as compensation for material and services rendered, and I make other use of the drawn portrait.
The prices base on the creation of one animal, one person or one motif per picture without background and without framing.
If desired, other formats as well as a simple, blurred background or a detailed background are possible with extra charge.
The price includes the expenditure of time and material.
Shipping costs are extra.
Every painting is unique.
Mats (Mounts)
A mat (mount), put between the picture and frame, protects the picture and changes its visual appearance. Suitable mats for pictures up to size 40 cm x 50 cm can be ordered in black or white or various colors on request. There are no additional shipping costs.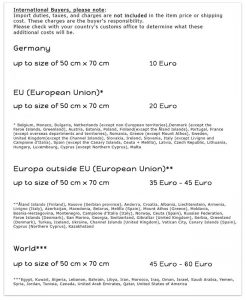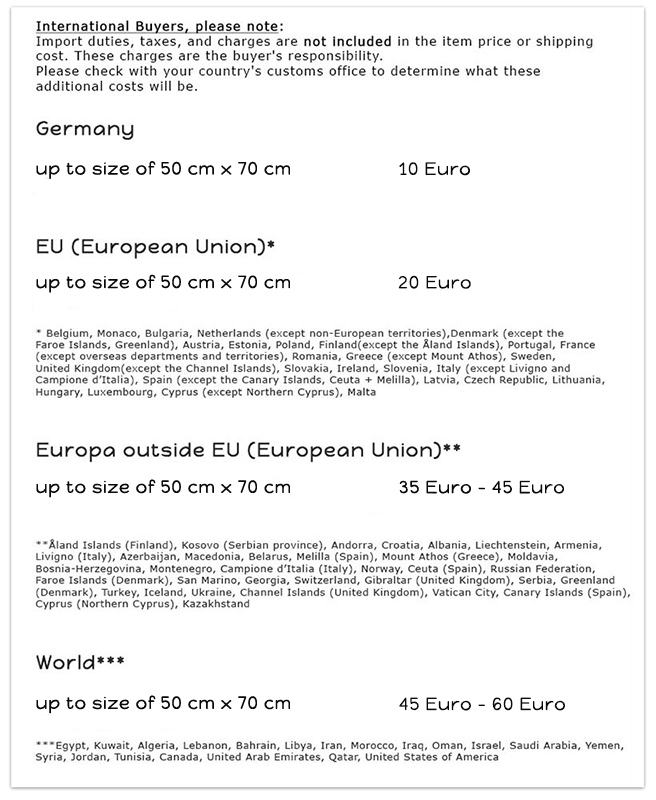 Cancellation and Returns Policy 
Please note that the information below refers to provisions of German law. If you do not agree with these terms and conditions, please do not buy or commission a drawing!
Please note:
The following cancellation right does not apply to distance contracts for the supply of goods manufactured according to customer specifications.
This applies to all original drawings and paintings which have been manufactured according to the customer's special wishes or have undoubtedly been designed to his individual requirements. That concerns all commissioned works.
Cancellation and Returns Policy
You are entitled to withdraw from this contract within 14 (fourteen) days, without giving any reason.
In the case of a purchase contract, the withdrawal period is fourteen days from the day "on which you or a third party specified by you, who is not the forwarder, have or has taken possession of the goods."
In order to exercise your right of withdrawal, you are obliged to inform us
Katja Sauer
Mooser Straße 69
77839 Lichtenau
(Germany)
phone: 0176 34436906
email: info@katja-sauer.de
by means of an unequivocal declaration (e.g. a letter sent by post, a telefax or an email message) of your decision to withdraw from this contract. For this purpose, you are free to use the enclosed specimen notice of withdrawal, which is however not mandatory.
In order to comply with the period available for revocation, it is sufficient that you send the notice of exercise of your right of withdrawal prior to the expiry of the withdrawal period.
Effects of exercising the Right of Withdrawal
When you withdraw from this contract, we are obliged to promptly refund to you any and all payments which we received from you, including costs of delivery (with the exception of additional costs resulting from the fact that you have chosen a mode of delivery other than the most favourable standard mode of delivery offered by us), and at the latest within fourteen days from that day on which we received your notice of withdrawal from this contract. For this refund, we will use the same means of payment which you have chosen for the original transaction, unless otherwise expressly agreed upon with you; in no event will you be charged for any consideration as a result of this refund.
We are entitled to refuse the refund until returned goods have been received by us or until you have submitted evidence that you returned the goods, whichever is the earlier.
You are obliged to return or to hand over the goods to us promptly and in any case at the latest within fourteen days from that day on which you informed us of your withdrawal from this contract. The deadline has been complied with, when you dispatch the goods prior to the expiry of the withdrawal period of fourteen days.
You are obliged to bear the direct costs of return of the goods.
You are obliged to make compensation for any loss of value of the goods only, if such loss of value is due to the handling of the goods in a manner that is not required for the examination of the condition, properties and functionality of the goods.
Note to non-existence and extinction of the right of withdrawal
The right does not apply to contracts for the supply of goods which are not prefabricated and for their manufacture an individual choice or decision by the consumer is important or which are clearly tailored to the personal needs of the consumer.
– End of the cancellation policy –
Template of the withdrawal form – Notice of withdrawal from the sales contract
Buyer:
Address:
I hereby declare that I withdraw from the purchase contract for the purchase of these goods:
Order number or purchase contract:
Ordering date:
Date of receipt of the goods:
Your name and surname:
Your address:
Signature (if sent in paper form) ____________________________