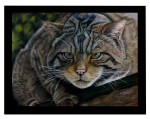 Little "Highland Tiger" in great danger – rescue plan for the Scottish Wildcats
WILDCAT HAVEN is a project for the protection and preservation of the pure Scottish Wildcats in the western highlands of Scotland. A major threat to their survival as a distinct breed is hybridization with domestic cats. According to estimates, there are now only about 35 pure Scottish Wildcats in freedom.
Phil Larsen (Scottish Wildcat Gallery): "Our ultimate aim is to create a haven for wildcats by working hand in hand with landowners and local communities across the 7,000 square miles of the Scottish Highlands west of the Great Glen. This area is separated from the rest of the Highlands by Loch Ness and Loch Lochy, creating a substantial "inland island" feral cats   can only migrate into with human assistance. Here, we can identify and mitigate most threats to wildcats providing long term opportunity for them to increase their numbers, with the population being carefully monitored and supported as it recovers. We have already begun work surveying and neutering feral cats in the area, however more in-depth research into wildcat hybridisation is now required to enable accurate identification of wildcats and neutering of feral and hybridised cats…"
For this good cause I've drawn the Scottish Wildcat "Garton" in soft pastels on pastelcard for the Scottish Wildcat Art Gallery.
50% of the proceeds for the original painting is a donation for the WILDCAT HAVEN project.
High quality fine art prints of the cat painting are also available in different sizes.
The respective amount of donation to save the Scottish Wildcats is given below the price of fine art prints.
"Garton"
Soft pastels on pastelcard 40 cm x 30 cm (drawing)
incl. gallery-mat/passe-partout 50 cm x 40 cm
without frame
If you are interested, please contact me!
High quality fine art prints of Scottish Wildcat "Garton"
Hahnemühle William Turner paper, 310 g / m² | 100% cotton
or
Hahnemühle Photo Rag ® – premium art paper, 308 g / m² | 100% cotton
Available in different formats – a fixed component will be also donated to the Wild Cat Rescue Project!
If you are interested and for more information, please contact me!
More information about the project can be found here: