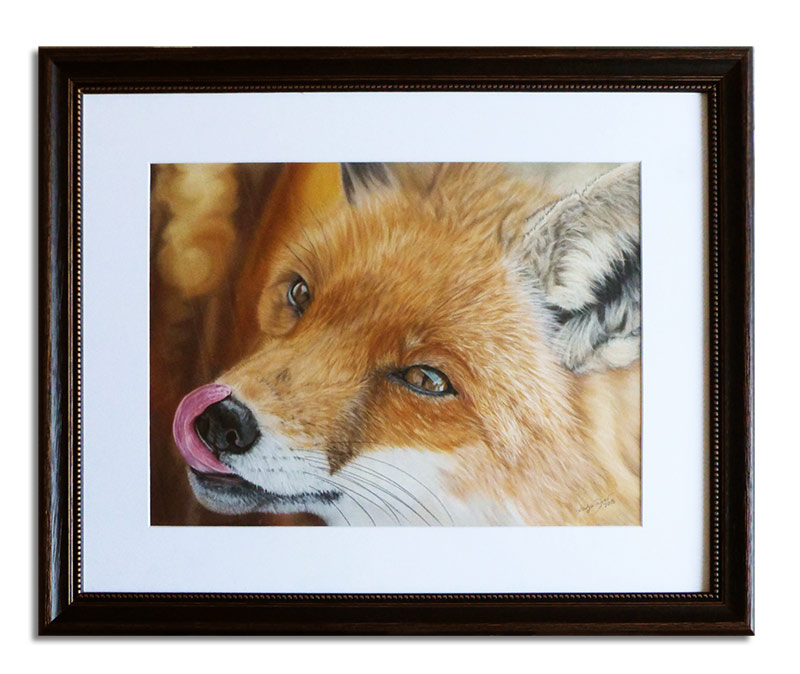 Fox in soft pastels by Katja Sauer
So, finally I drawn the fox for my wildlife project 2015. :-)
For this animal drawing I used soft pastels, such as Unison Colour soft pastels, Rembrandt pastels and PanPastel.
I have elaborated the details with pastel pencils from different high quality artist brands.
The working hours for this pastel drawing was about 32 hours.
A big thank you goes to a good friend of mine, Emmanuel Keller, for his friendly permission to use his beautiful photo reference.
The painting is available for purchase, including mat and wooden frame in baroque style (with acrylic glass).
If you are interested in this hand-drawn pastel painting or if you have a question, please contact me.
ORIGINAL PASTEL DRAWING
"Fox"
Soft pastels on Pastelmat 30 cm x 40 cm / 12″ x 16″ (drawing)
incl. wooden frame in baroque style with acrylic glass and Gallery mat (final size incl. photo frame 46 cm x 56 cm / 18.11″ x 22.04″)
(An enlarged preview you can find in the gallery "wildlife".)
Detailed views