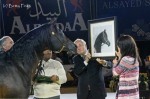 GAZAL AL SHAQAB – All Nations Cup 2017 in Aachen
Sunday, 2017-09-24 – for me an indescribable and unforgettable day in Aachen at the All Nations Cup 2017. 
I was allowed to draw the unique Arabian stallion Gazal Al Shaqab for the award ceremony and I got a birthday serenade – what a big and wonderful surprise! ♥  
I will never forget this day!
A huge thank you to Wolfgang Eberhardt, Chairman of the VZAP (Verband der Zuechter und Freunde des Arabischen Pferdes e.V.) who made all this possible – many thanks for this wonderful day!
…and many thanks to Gregor Aymar, Mike Ashmore, Michael Byatt, Sheikh Hamad Bin Ali Al Thani, Thomas Reith, Franziska Schustetter, Monika Bäter, Birgit Lapsien, Betty Finke, Susanne Ismer and many other kind people, whom I could get acquainted with in Aachen or already knew from fb or met last year!
Photo credits: Betty Finke and Susanne Ismer
Ref. photo for the pastel painting of Gazal Al Shaqab: Gregor Aymar
…and here are some impressions: