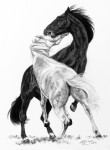 Hi everybody! :-)
In April, Eva, a commissioner, published a post on her blog about my 'Yin and Yang' horse drawing in charcoal.
I was very happy about it! :-)
Since the format was quite small (15 cm x 21 cm, to be exact), the whole thing was a bit challenging, because charcoal is a little crumblier and coarser than pencil. However, I was satisfied with the result and I had a lot of fun drawing these two horses.
Here you can find the article about my 'Yin and Yang' horse drawing in charcoal.
Many thanks, Eva! ♥
Please take a look in Eva's blog 'Chevassion'. There you will find articles about horses and horse riding, according to the motto fairness and the humane treatment of horses.