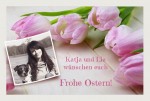 Hand-drawn animal paintings and animal portraits for the Easter basket
Hello everybody,
my hand painted animal drawings are a very popular Easter gift. Whether as a surprise for a loved one or simply as a souvenir of a beloved pet. I am very happy that all my appointment orders have arrived safely in their respective Easter basket. :-)
Now I wish you all a peaceful and happy Easter with lots of sunshine!
The weather is not that bad … or what's the name of it?
There is no bad weather, only wrong clothes! ;-)
In this sense – go out into nature and enjoy the fresh air…
Have a nice day and a few relaxing holidays. ♥
best regards
Katja